Has The LORD Redeemed You? Then Speak Out!
Tell Others He Has Redeemed You From Your Enemies?
(Psalm 107:2, NLT)
Troy and I hardly know where to begin when it comes to thanking and praising God for Who He is in our lives and all He has done for HMM and us. Since 1988 when we met, we can humbly say He has truly showed up and showed out over and over again. We both needed a great amount of deliverance and healing in our lives and He graciously gave us one another to support each other as we have gone through the processes of growing in Jesus, founding HMM and learning to work in the Kingdom. It has not been without pain that old wounds, hurts and relationships have been healed and we have come through the birthing canal of our cocoons, getting our wings and flying in the Spirit like butterflies to new levels. We have not arrived yet, as the Apostle Paul states in Philippians 3:13-14, but truly we are reaching forth to those things which are before and pressing toward the mark for the prize of the high calling of God in Christ Jesus. We believe all of you, the HMM Worldwide Prayer Intercessors, are marching forth with His Majesty and joining your hearts and hands with His and ours establishing God's Kingdom worldwide through the Word of God and the personality Holy Spirit. Amen.
We would like to share we truly know without all of you priceless HMM Worldwide Prayer Sanctuary Intercessors meeting us in the Spirit weekly praying the Prayer of Agreement and partaking of Holy Communion, the boundaries of HMM here in America and other countries to accomplish our God-given mandate would not have come to pass at such an accelerated rate. The Word of God tells us in Hebrews 6:14-15 Saying, Surely blessing I will bless thee, and multiplying I will multiply thee. And so, after he had patiently endured, he obtained the promise. Surely, after patiently enduring, His Majesty has blessed HMM and multiplied HMM and we pray this is true for every one of you the HMM Worldwide Intercessors, your families, churches, ministries, businesses, and every area of your lives. Amen. Thank You Abba Father! Thank Yo, Wonderful Jesus, thank You precious Holy Spirit, our Best Friend on this earth, for every one of you and every one who prays with us who are not HMM Intercessors. Thank you for being faithful to uplift Israel, America, all the nations, the body of Christ, corporate world, His Majesty Ministries, every HMM Intercessor and his/her loves ones, and every prayer petition received here at HMM. We believe His Majesty Ministries Worldwide Prayer Sanctuary is making a difference and taking this world back for His Majesty worldwide (Matt. 11:12)! How could we ever say thank you enough to His Majesty, all of you HMM Intercessors and others that pray with us. Bless you! Bless you! Bless you! We are thankful the the Word tells us in Hebrews 6:10 - For God is not unrighteous to forget your work and labour of love, which ye have shewed toward his name, in that ye have ministered to the saints, and do minister, which means God is not unrighteous to forget your work and labour of love and you will be rewarded! Oh what rewards His Majesty has laid up for each of you! Hallelujah! We give thanksgiving to God for each of you, every answered prayer and every miraculous move by His mighty hand! Amen. His Majesty loves you all from His heart full of love for you and we love you from the bottom of our big Texas hearts! See you in the Spirit . . . Minister Troy and Prophetess Sharyn
We are thankful for African Director Imbera who has been diligently faithful in his ministerial endeavors to accomplish the HMM mandate establishing God's Kingdom come, His will be done in earth, as it is in heaven through the Word of God and personality of Holy Spirit. He and his wife, Sister Jane, have stood without wavering with HMM giving glory to God as he has travelled in Africa, meeting with pastors in various churches, ministries, schools, a prison and conducting prayer conferences. He has taught the Word of God, the Prayer Of Agreement, the partaking of Holy Communion and through his efforts many churches, ministries and individuals have joined His Majesty's Worldwide Prayer Sanctuary thus moving us toward our goal of 1,000,000 HMM Intercessors. We praise God for the team of HMM Intercessors in Africa who stand in the gap and join their hands and hearts with all the HMM Intercessors worldwide and us taking this world back for His Majesty. Only God could have divinely connected us with Director Imbera, Sister Jane, all the HMM Intercessors in Africa. We say without reservation HMM and we are over-the-top blessed by this Godly, excellent man and woman, Director Imbera and Sister Jane, and all the HMM Intercessors in Africa. Minister Troy and Prophetess Sharyn
I am thankful for all the Lord has blessed me with. Most of all He died on the cross for me and took the stripes on His back for my healing. Minister Troy
I am a thankful child of God. I am thankful I can walk and basically take care of myself. I am thankful for the people who pray and pray according to the Word. I am thankful all my needs are supplied. I am thankful for my family and friends. I have too many things to be thankful for and went over 25 words. I love you. Bless you. Kathleen
I am thankful my husband, Randy, has a job and he likes his job. Angela
We thank Jesus for all the awesome deeds He has done since we started this year such as the gift of life, all the provisions keeping families. Our marriage and my wife Janet we celebrate 10 years from 16th of May 2009 until now 2019, and we promised each other to continue till Jesus comes. We thank God for both our physical sons and daughters also all our spiritual children, we thank God you are who have stood faithful till now. We thank God for peace in our country and communities where we all live. Open Love Community Church Kampala we celebrate 6 years since we started we have seen both spiritual and physical growth, etc. Glory be to God. Pastor Andrew and Sister Janet
After a difficult and very unpleasant eight months, God has blessed me with a job that fulfills every 'check' I was looking for and needed. I was in an environment that was toxic to my soul and God lifted me out of the miry pit! He placed me in a job among nice people, has wonderful benefits, with a sustainable salary, and a location not too far from home. My new job makes use of my talents and is also interesting. I am so grateful, especially during this particular season, for the gift that God has given this 'senior' lady. Robin
A ministry leader is giving God thanksgiving because we have so much to be thankful for.
Hello! Have a Happy Thanksgiving! Linda
Blessings at this Holiday Season. Dr. Elwyn and Sister Mavis
Merrie, one of our Board Members and Secretary, suffered a fall and lay in her room for three days unconscious before anyone found her. She was thereafter taken to the hospital with a badly injured and infected leg. The doctors told her the leg would have to be amputated. Merrie, a strong woman of faith, told them, you are not going to take my leg. All the HMM Intercessors prayed and believed God with her. Another doctor was called in on her case and he found the health problem causing her to fall was her blood pressure was high and she had a heart problem. He prescribed the right medication, he put a stint in her heart and because of prayer and the right care of her leg, she did not have her leg amputated. Praise God! She has all the doctors praying for her at the rehab center where she is receiving excellent care and told us everyone knows I love Jesus! Merrie is a shining light and a true live testimony to the protection of God, His restorative healing power and attentive care taking of His children. Amen. Minister Troy and Prophetess Sharyn
We are praising God a family member is healing and mobile after a bad foot injury and surgery.
A new HMM Intercessor who lives here in Burleson, Texas, recently joined HMM. He has a disability and what he does with his time is pray. He said he is going to meet with all the HMM Intercessors every day in the Spirit, pray the Prayer of Agreement and partake of Holy Communion. This is awesome!
Another HMM Intercessor who has been attacked in her body with sickness for many years told us she found the right doctor, he has prescribed new medications and she is feeling much better.
A lady by the name of Janet was pregnant. She went to give birth at the ELWA hospital and she gave birth safety but the child died for over 30 minutes. There was no life in the child until prayer was made by the church. By the special grace of God the child came back to life. Hallelujah! This is the Mother with the child. Pastor James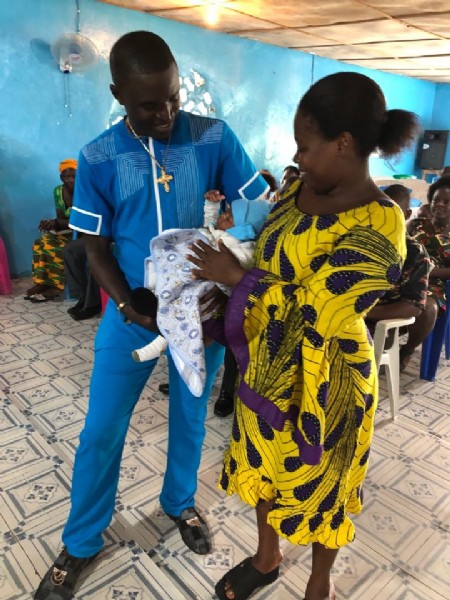 I appreciate your prayers and covering over my life and ministry. Pastor James
Troy and I are thankful to God for all the visitors who visit the website, www.hmajesty.org, and those who send us encouraging words they have been educated, inspired, blessed, and touched in their hearts by the Word and Holy Spirit. God is doing a work! It is our deepest desire to help equip the body of Christ and set the captive free worldwide in mighty name of Jesus.Minister Troy and Prophetess Sharyn
It has been a blessing to visit your website. It is very formative, Educative and inspiring, its blessed our spiritual life. You have a good sound Christian doctrine that we would like also partake in building our innermost faith and our relation with God, we believe that our union with your calling together with us will do a great deal to fill the kingdom of God with joy and discover our stand in serving God. Receive our Christian greetings in the most precious name of our Lord and Savior Jesus. It is indeed good to be able to know you and to learn of the common faith that we do share which was once delivered unto the saints. We have loved your doctrine and teachings they are very good and inspiring, we are touched by your ministry, your heart to minister for God to his people with such inspiring divine words. Pastor David
Troy and I thank God we received some excellent deliverance and healing training this past Saturday when we attended a deliverance training meeting in Dallas. God also blessed us in a special way by allowing us to participate in ministering deliverance and healing to a lady who had been enabling her ex-husband to harass her and make her life miserable. Praise God she is free now! --Minister Troy and Prophetess Sharyn
A property owner called us and said last week a house and property near his house and property were damaged by hail. He said his house and property were not damaged by the hail. He is a Christian and gives God all the praise as he prays a hedge of protection around his house and property. He knows God protected it all from the hail damage. Jim
I thank God for this prayer group because since I enter our God has done so many things for us. When we are disappointed He cannot leave us. May the Lord bless. Rev. Fataki
The will of the Lord be done. That is what I thank Him for all the time.--Shirley
Psalm 126:2 (GW)
2 Then our mouths were filled with laughter and our tongues with joyful songs. Then the nations said, The LORD has done spectacular things for them.
Psalm 26:7 (NASB77)
7 That I may proclaim with the voice of thanksgiving, And declare all Thy wonders.
Psalm 50:23 (NASB77)
23 "He who offers a sacrifice of thanksgiving honors Me; And to him who orders his way aright I shall show the salvation of God."
What an awesome Let the Redeemed Say So gathering of corporate thanksgivings! To God be all the praise, honor and glory for all He has done for all of us! His Majesty and we thank you for sharing your testimonies of thanksgiving! We bless His Majesty with a Happy Thanksgiving from His Majesty Ministries and we bless each of you, your families, your churches, ministries, and businesses with the most blessed Thanksgiving Celebration ever in the mighty name of Jesus! Thank you for celebrating this Thanksgiving Season with HMM and us! You are a God-chosen, God-appointed HMM and Kingdom family! Praise God! His Majesty loves you all! See you in the Spirit . . .
Love, answered prayers, thanksgiving, praise, honor,
our only wise God, unity, shalom,
His Majesty Ministries
PO Box 2287
Burleson, TX 76097
Email:hmministries@sbcglobal.net
Website:www.hmajesty.org
Copyright 2019 His Majesty Ministries